We live in times when those who not only think outside the box, but live and market outside the box will not only survive, but thrive in all kinds of market conditions.
The code technology known as QR, or Quick Response is quickly becoming one of the easiest and fastest ways to connect and communicate with consumers and prospects in the marketplace.  These QR Scan Codes are printed on almost anything from business cards, t- shirts, billboards and then deliver the scanner to a specific web page, delivering product information, special offers, price quotes or even movie times.
The beauty about these codes are the multiple benefits and tracking information which give you and your marketing team real time data and become more viral with your marketing efforts.
Let's consider a real estate agent that markets one of his/her top listings in a magazine, that listing is sold before or just after the magazine hits the stands. Great for the listing, but now the agent can take advantage of the traffic and redirect to another listing or share compelling information to help them come in contact. Used by the same agent, as a home buyer drives through a development, a sellers agent can direct traffic to a specific web page or virtual tour giving them more information about the house that any flier could.
How many times have you misplaced a business card? With the QR code printed on the back of the card, you could easily download a V-Card into your address book on your phone to be synced with your computer later. See our sample shown here.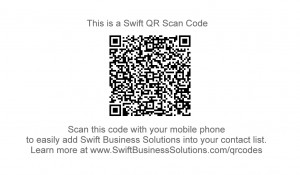 The uses are endless and will cause additional traffic to your website, increased brand awareness and can improve SEO rankings.
Ready to learn more and see how making this move could be a Swift Business Solution? Send us an email by clicking here.
Looking for a QR Reader? Download a scan reader or scanner app for your smart phone by visiting our QR Code page.
Contact the Swift Team today! We are serious about making an impact in your business. You have nothing to lose! Call by March 15th and set an appointment to meet by the end of March and we will buy lunch for our meeting.
Our team is looking forward to meeting you and developing a Swift Business Solution.