We have all walked down the aisle in the midst of hundreds of different types of plants wondering…Where will this grow?  How big will it get? I wish that I  could see what it would look like or at least a picture bigger than a thumbnail.
A couple of months ago the Swift Team was approached to work with with a botanical photographer (someone that LOVES plants) to develop a unique website.  They wanted this website to change the landscape on how plant retailers would showcase their product and better educate us about the plants we are looking to buy.  The company is PlantScene  and it does just that.  It helps the plant to be seen and much, much more.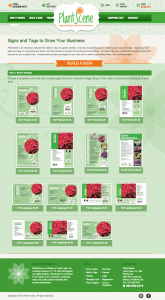 Plant growers and retailers have no excuse now. The PlantScene website has 15 customizable templates, married with all of the data (that helps us grow them) for over 18,000 botanical plants and more than 60,000 images that will be bigger than our thumbnail.  This will guide you when developing custom plant signs to assist consumers in selecting plants.
Plant growers and retailers can create a new account and start building custom plant signs that will be professionally printed at an incredibly affordable price. They are laminated and designed to withstand the elements that plants live in, which means they are durable.
Now it is time to get the word out.  Will you help us?  You can by sending a link to your nursery so they can make sure their plants are seen by using PlantScene.com