It seems fitting that if your furry family members are going to be traveling with you that they have their own luggage. Short weekender or a long summer European vacation you booked with A Travel Planner, you will love Pet JetSetter Travel Bags for your pups.
Paige Metzger is the designer/proprietor of Metzger Design's and creator of the Pet JetSetter Pet Travel Bags.
As you can see the previous website was overdue for an update, both from a design perspective and a functionality/use view because it was not very mobile friendly.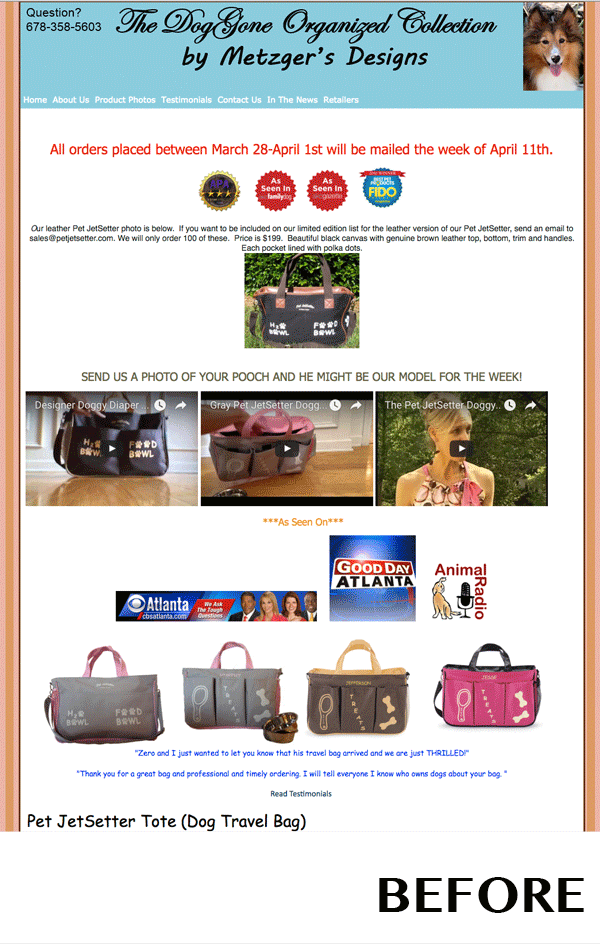 Our team worked hand in hand with Ms. Metzger to develop a web presence that would sustain for many seasons and even have a couple custom options that would allow for decorative updates down the road.
Metzger Designs has designer products with more in the pipeline, including a leather option for its Dog Travel Bag.
Paige has received many testimonial letters of gratitude from her clients travel partners, ecstatic that they now have their own doggie travel bag.
At the beginning of every project we assure our clients that we are looking forward to a long term relationship that will last long after the development or sale of their website.
As a ecommerce website developer in Greenville, we work hard to position ourselves that clients and customers will want to share their experience and how we delivered a Swift Business Solution.
We are grateful for the kind words from Paige Metzger and look forward to working with her to grow and build her brand.