Since 1977 Mobile Meals has been meeting the needs of the frail and home bound of Spartanburg, South Carolina.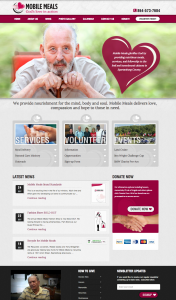 Partners from 44 businesses and as many as 1600 volunteers throughout the year meet those needs all under the guidance and counsel of the dedicated team lead by Jayne McQueen.
Over the past few months the team at Swift Business Solutions has had the honor to work along side Jayne McQueen of Mobile Meals and Debbie Nelson of DNA Creative to develop and begin to communicate "God's love in action".
The new web presence provides a much needed tool that will help to meet the needs of those that Mobile Meals serves. This includes:
Please take a moment to visit their new site and see God's love in action.