The satisfaction of a client is something our team takes seriously! Before, during and long after the launch of a new website.
Recently we had the opportunity to work with Bobby Lyons, President of Lyons Industrial Properties in Spartanburg.
Lyons Industrial Properties is the only commercial real estate firm in the Upstate of South Carolina that is solely focused on industrial real estate. This is on purpose which allows them to maintain their position as the authority in the market.
As Bobby began his search for a firm that was just as focused on web development and the services after the sale, including web hosting and ongoing maintenance, Swift Business Solutions was a name he kept hearing.
After a few one on one meetings and a couple of  weeks, The Swift Team had developed a custom look and feel that was in concert with other marketing efforts.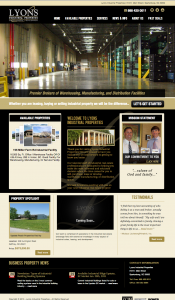 Lyons Industrial Properties has launched their new swift business website which has already assisted in the successful marketing of their properties.
It says a lot when our clients take the time to share how satisfied they are with our web development and marketing services. It reinforces our core values and objectives, you take care of them and they will take care of you.
Take a look at the at the testimony from Bobby Lyons.