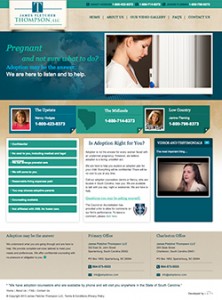 We consider ourselves blessed with every client or project that is entrusted to us. Working with the professionals at The Law Offices of James Fletcher Thompson was no different.
However, this was one of those unique opportunities not only to make an impact in their first impression (we all know how important that is), but to become part of a team that does change lives. I learned how few parents consider adoption, more often because of lack of knowledge.
It was our honor to develop a tool that will be a resource for what is an amazing team who are helping young birth mothers as they consider and learn more about adoption.
Be sure to not only check out their new website and keep it top of mind should you learn of a mother that would like to consider adoption in South Carolina.