I love to cook!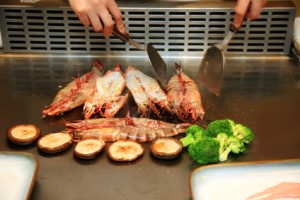 In meetings I often refer to creative content development similar to visiting a Japanese Teppan Bar & Grill.  A chef can find him/herself cooking several different meals at once, to meet different needs.
The same is the case with the content we prepare and submit on our website. As always, the best way to encourage people to link to your website, is by consistently providing new, compelling and useful content. Content, content and content, to steal a well known phrase.
Creating compelling, relevant and useful content about your products, industry or current market conditions can and will begin to set you in front as an authority. Integration of  keywords and phrases within this useful content will likely have an impact on your website and its presence, more than any other factor. Recently, Google introduced one of it's many algorithm updates (as many as 500 each year). Penguin, it is believed and confirmed in some circles that regularly posted quality content is the recommended method to getting more traffic to your website. Ideally you should post at least 2 new articles per week, more being better, as Google will favor websites with frequently updated material that contains unique and relevant content.
Again, much like a good restaurant (lets think steak this time, see Pan Seared or Oven Roasted for more content thoughts). If your website offers good content, your clients and prospects will begin to see you as the authority that you are and check back often and perhaps sign the deal, especially if you speak to a topic they are interested in.
Write content that is rich and that encourages other websites to link to you as well, magnifying your efforts.
This is one of Six Tips we will focus on this month to assist you with using your web presence to make an impact in your business and those that you look to do business with.